Description
Accurately check pH, Alkalinity, Calcium, Low Range and High Range Nitrate, Ultra Low Range Nitrite, and Ultra Low Range Phosphate with one single, compact multiparameter tester!
All-In-One Testing with Precise Results for Reef Tanks
The HI97105 Marine Master Photometer is a waterproof tester that combines accuracy and ease of use into one simple, portable design. Its advanced, lab-quality optical system ensures accurate readings while its user-friendly design and built-in tutorials make it perfect for marine scientists and aquarium hobbyists alike.
Precise and advanced LED optical system
No warm up time needed before taking a measurement
Waterproof and floating IP67 meter design
CAL Check validation and calibration
Consolidates testing needs into one unit
Includes auto-data logging features to easily record water testing results
On-screen tutorial mode guides users step-by-step through the measurement process
Option to select measurement location for better tracking consistency
Auto shut-off
Rugged carrying case included
Precise Laboratory Testing, Simplified
The Marine Master Photometer comes equipped with user-friendly on-screen tutorials and animations to help guide you through every step of setup, calibration, and testing. You can easily access this Tutorial Mode at any stage of the setup or measurement process by tapping the dedicated Help key.
Smart Energy Use
When the battery level is below 10%, a warning symbol will blink to indicate low battery condition. When low battery power may affect your results, the meter will shut down to avoid erroneous readings caused by low battery level. In order to preserve battery life, the Marine Master has an Auto-Off feature that will automatically power down the device after 15 minutes of inactivity.
Auto Data Logging
The Marine Master will automatically log your results, so there is no need to worry if you've missed recording a measurement. The last 50 measurements can be instantly viewed using the Log Recall Menu.
CAL Check Validation
Hanna's exclusive CAL Check feature provides a stress-free, straightforward way to ensure your photometer is working properly. Simply insert the certified CAL Check standards and let your meter guide you through validation. If your photometer is out of specification for any reason, simply calibrate to your standard.
Advanced Optical System
The Marine Master has an advanced optical system that uses a Light Emitting Diode (LED) and a narrow band interference filter that allows for accurate and repeatable readings. The internal reference system of the photometer compensates for any drifts due to power fluctuations or ambient temperature changes, providing a stable source of light for the blank (zero) measurement and sample measurement. Improved optical filters ensure greater wavelength accuracy and allow a brighter, stronger signal to be received. A focusing lens collects all of the light that exits the cuvette, eliminating errors from cuvette imperfections and scratches. The end result is highly reliable lab-grade readings in the palm of your hand.
Durable & Portable Design
Designed to withstand the knocks, drops, and spills of real life, the new IP67 body ensures top performance in any environment. Internal optics are sealed from outside dust, dirt, and water. The meter also floats, so you can easily retrieve it if you drop it in water. This photometer uses an exclusive positive‑locking system to ensure that the cuvettes are placed into the holder in the same position for accurate readings every time.
The Marine Master also fits comfortably in your hand for on-the-go testing. The supplied AA batteries provide life for more than 800 measurements, and its backlit LCD display can provide readings from any angle, day or night. Everything you need for testing comes neatly stored in the provided durable carrying-case for added convenience.
What's Included?
1x HI97105C Photometer
1x HI780-25 Marine pH reagent (30mL)
1x HI772-26 Marine Alkalinity reagent (30mL)
1x HI7581U Marine Calcium reagent A (30mL)
1x HI7582 Marine Calcium reagent B starter kit (reagent for 25 tests)
1x HI782-25 Marine Nitrate High Range starter kit (reagent for 25 tests)
1x HI764-25 Marine Nitrite Ultra Low Range starter kit (reagent for 25 tests)
1x HI774-25 Marine Phosphate Ultra Low Range starter kit (reagent for 25 tests)
2x Sample cuvettes and caps
2x 1mL Graduated syringes with tips
1x Mini Pipette with tip
2x 3mL Pasteur pipettes
3x 1.5V AA alkaline batteries
1x Cleaning cloth for wiping cuvettes
1x Scissors
1x Instrument quality certificate
1x Instruction manual
1x Hard carrying case
Arrive Alive Guarantee Policy:
We have close to a 99% success rate on our livestock shipping due to our picking and packing techniques.
However, the unfortunate event that an item is dead on arrival you must follow the below procedure to prevent your claim from being declined.
You must make contact with us via email within 2 hours of receiving your order. You do not need to call us as we are not always able to answer the phone immediately due to the nature of our work with our hands in water majority of the day.
The email must contain a clear photo of the livestock in the original bag still sealed. The photo must be clear and show the entire bag.
This allows us to review your claim and refund accordingly. Due to the nature of your purchase, should you not make contact within 2 hours, refund claims will not be considered.
Once your claim has been processed a refund will be honoured for the cost of the item EXCLUDING the cost of postage within 72 hours.
Please note that the acclimatisation process and how the livestock settle into your aquarium is your responsibility as this is out of our hands. There are a number of factors out of our control such as
Existing fish becoming aggressive towards your new additions
Incorrect water parameters - PH / Ammonia / Nitrite Levels.
Incorrect acclimatisation process carried out, introduced livestock too soon which will cause too much stress to the livestock.
Therefore we are unable to cover the livestock once they have been delivered and introduced into your aquarium.
Claims will NOT be considered if you miss delivery and your order is taken to the sorting office. Returns are not accepted on livestock.
DX offer a 'Change Your Delivery Date' HOWEVER, YOU MUST NOT CHANGE THE DELIVERY DATE OF YOUR LIVESTOCK ORDER. IF YOU DO YOU WILL VOID YOUR ARRIVE ALIVE GUARANTEE COMPLETELY AND NO CLAIM WILL BE CONSIDERED.
We strongly recommend that you quarantine any new additions before introducing to your main tank. As with any livestock, we cannot be 100% sure of their condition once they leave us, therefore you should always carry out your own quarantine process and monitor the livestock closely before you make the decision to introduce the livestock to your main aquarium.
UPDATE
As of the 1st May 2021, we will be issuing a credit code rather than a monetary refund, should a livestock item not arrive alive. You must still follow the procedure as normal which is stated in our policy, for your claim to be considered.
The credit code will be issued via email to the email address given on your order.
The credit code will be for the value of the livestock only (excluding postage costs)
This only applies if your item is covered by our Arrive Alive Guarantee policy.
The reason we have made this change is because our livestock prices are one of the cheapest across the industry and we want it to stay this way. We do not have any cover or insurance if an animal does not survive the journey to you, so in order for us to maintain our low prices we will now be offering credit notes instead of cash refunds.
If an item is out of stock at the item of packaging your order, we will issue a refund as we were unable to fulfil the item prior to dispatching.
Tank mate compatibility is crucial to a successful and healthy home aquarium. Incompatible species will increase stress in the tank which could result in disease and considerable loss. Use our compatibility charts as a guideline when selecting fish.
Remember, no guarantees can be made about the compatibility or incompatibility of any particular species of fish. Also, particular species within a group of fish vary in temperament and may not correspond with the guidelines below.
Proper acclimation is the key to successful introduction of new aquarium arrivals. The Floating Method is undoubtedly the most widely practiced method among hobbyists. However, a more exact method of acclimation provided by the Drip Method is required for fish, corals or invertebrates sensitive to sudden changes in water chemistry.
Why Acclimate?
The reason why acclimation is necessary is simple: the chemical makeup of the water in which the aquatic life is packaged is different from your aquarium water chemistry (i.e. water temperature, pH, and salinity). Aquatic life such as fish, and especially invertebrates (including corals), are very sensitive to even minor changes in water chemistry. The goal of acclimation is to gradually introduce your new aquatic life to the water chemistry found in your aquarium at a controlled rate to avoid distress.
The acclimation process is complete when equilibrium is reached, where the temporary container housing new arrivals shares the same water chemistry as your aquarium, and your new arrival appears adjusted to these conditions. Since different species have varying levels of tolerance, different methodologies are required to control the rate of change experienced during the acclimation process.
We recommends employing the Floating Method or the Drift Method of acclimation. The Floating Method of acclimation, where aquarium water is added to the floating bag in 1/2 cup increments, is a great choice when acclimating most types of aquarium fish. However, for more sensitive fish, invertebrates, and corals, it is recommended to employ the Drip Method of acclimation. Keep in mind, no matter which acclimation method you choose, be sure to take your time and never rush the process.
Floating Method
1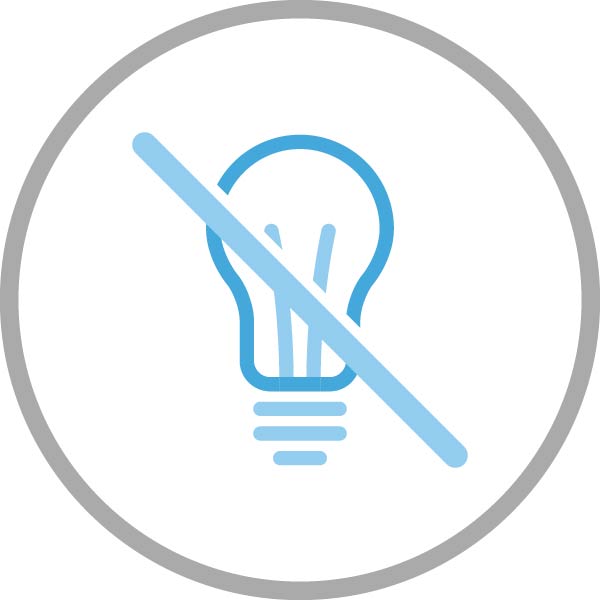 Turn off aquarium lights.
2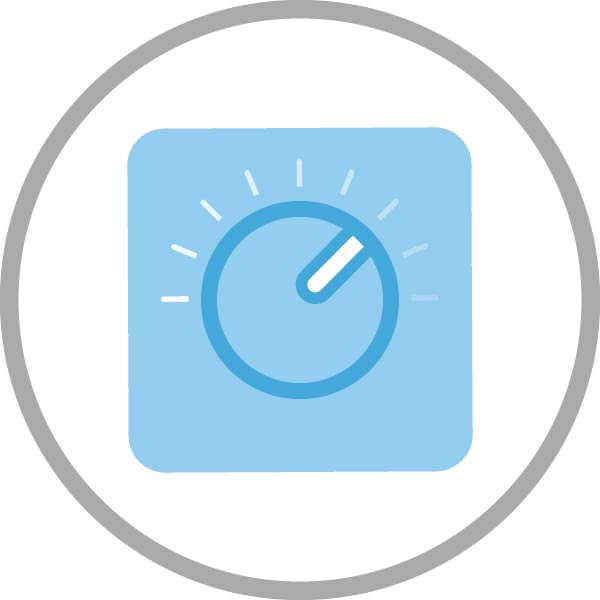 Dim the lights in the room where your specimen bags will be opened. (Severe stress or trauma may result from sudden exposure to bright light.)
3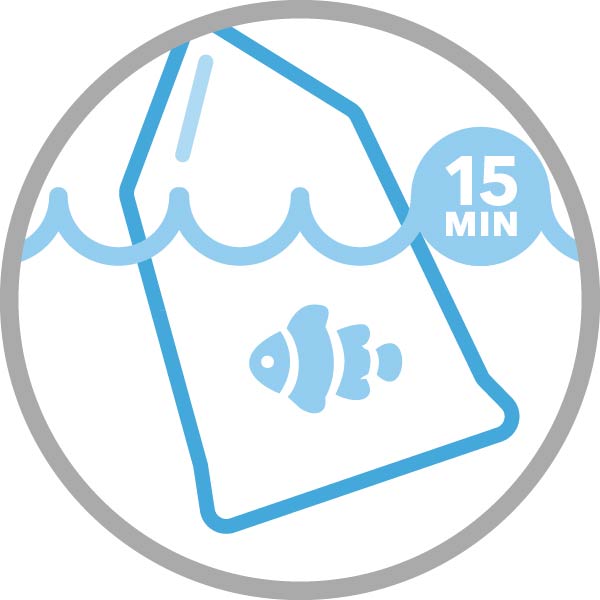 Float the sealed bag in your aquarium for 15 minutes. This allows the water in the specimen bag to adjust slowly to the temperature in the aquarium.
4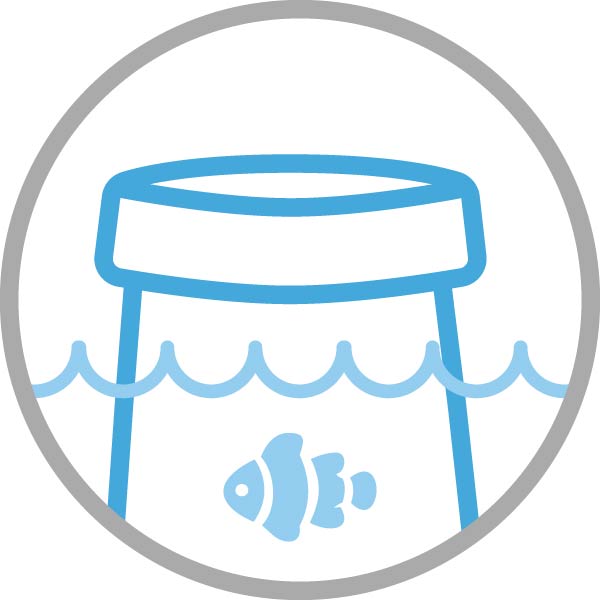 After 15 minutes, cut open the bag just under its closure and roll the top edge of the bag down one inch to create an air pocket within the lip of the bag. This will enable the bag to float on the surface of the water.
5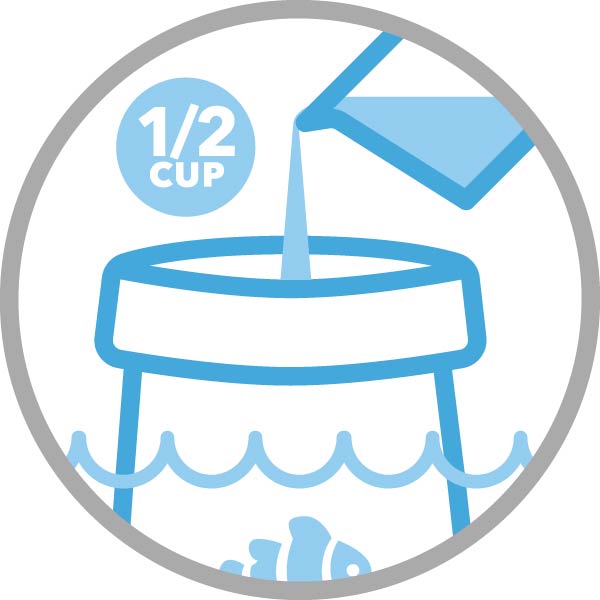 Add 1/2 cup of aquarium water to the bag.
6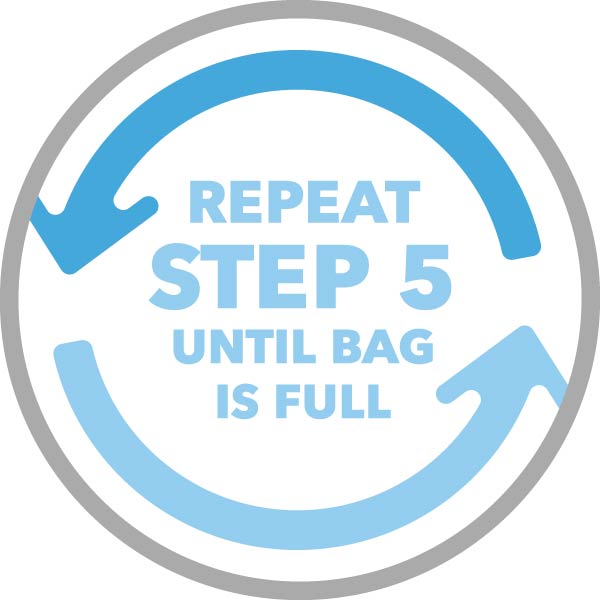 Repeat Step 5 every four minutes until the bag is full.
7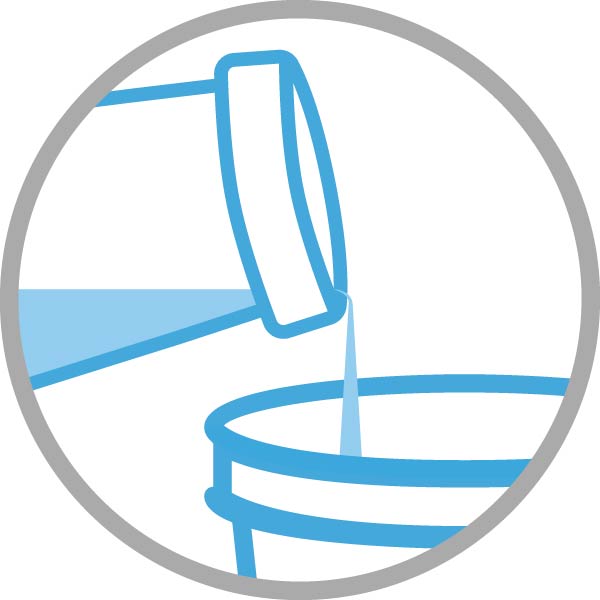 Lift the bag from the aquarium and discard half the water from the bag.
8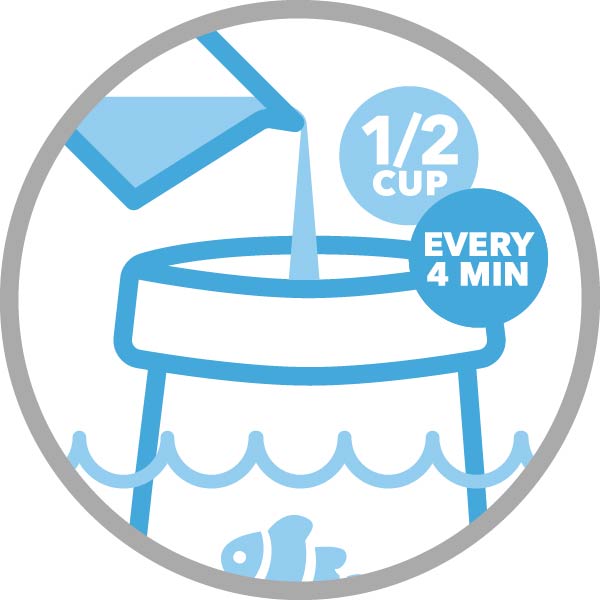 Float the bag in the aquarium again and proceed to add 1/2 cup of aquarium water to the bag every four minutes until the bag is full.
9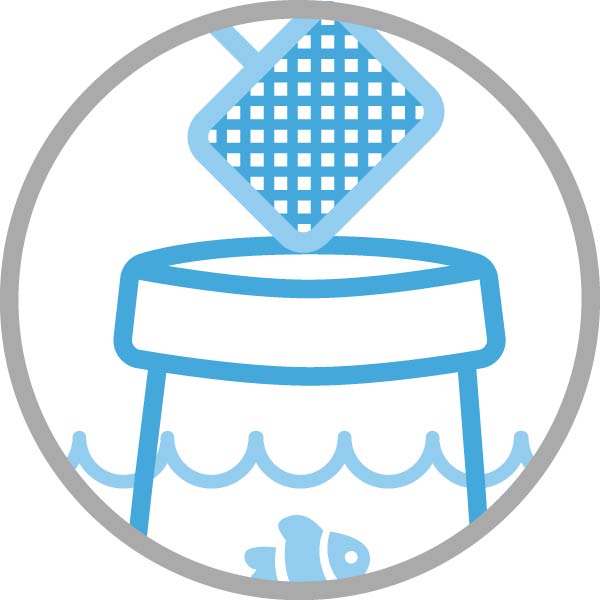 Net aquatic life from the bag and release into the aquarium.
10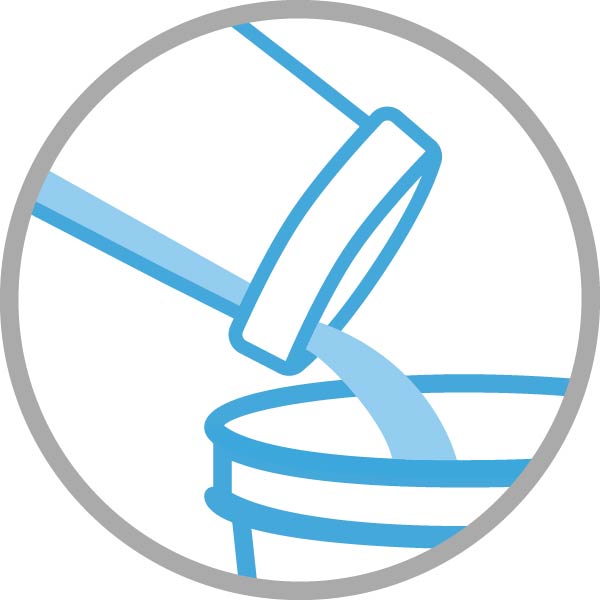 Remove the filled bag from the aquarium and discard the water. Never release our water directly into the aquarium.
11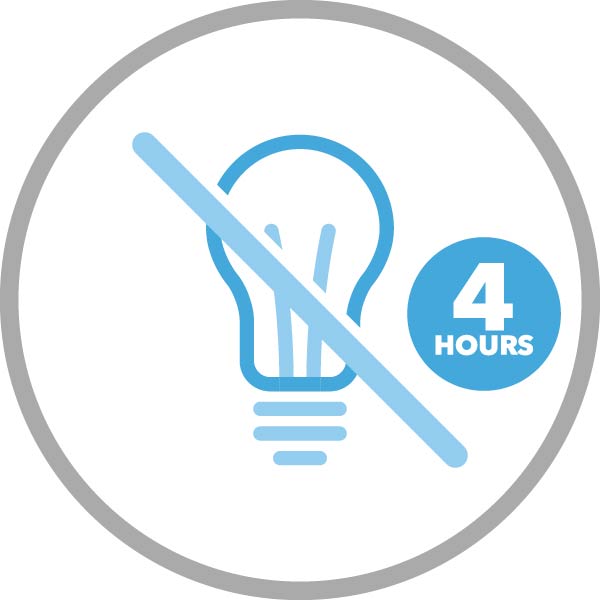 Keep your aquarium lights off for at least four hours after the specimens are introduced into the aquarium to help them further adjust.
Drip Method
The Drip Method is considered more advanced. It is geared toward sensitive aquatic life such as snails, corals, shrimp, sea stars and wrasses. You'll need a drip acclimation kit (sold separately) and must be willing to monitor the entire process. Gather a clean, 3- or 5-gallon bucket designated for aquarium use only. If acclimating both fish and invertebrates, use a separate bucket for each.
1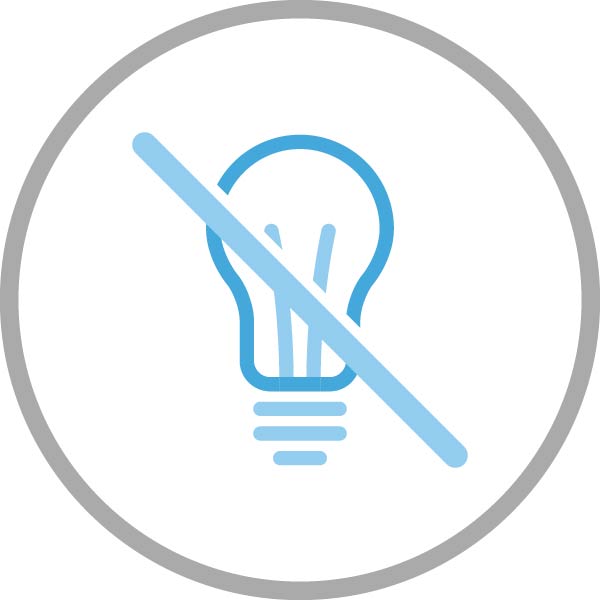 Turn off aquarium lights.
2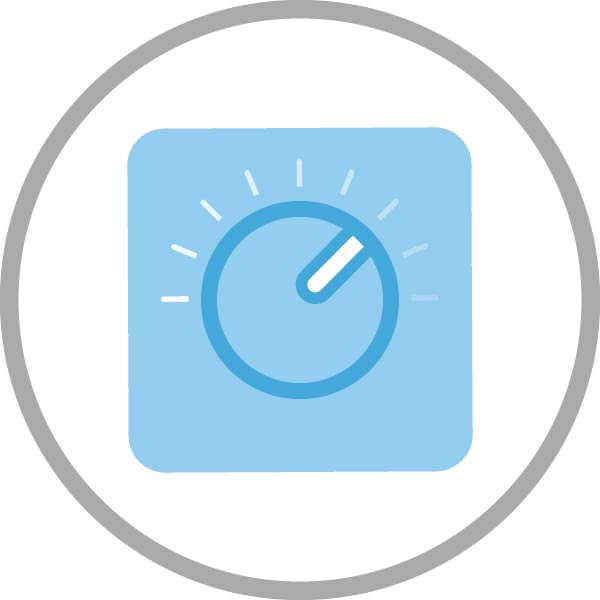 Dim the lights in the room where your specimen bags will be opened. (Severe stress or trauma may result from sudden exposure to bright light.)
3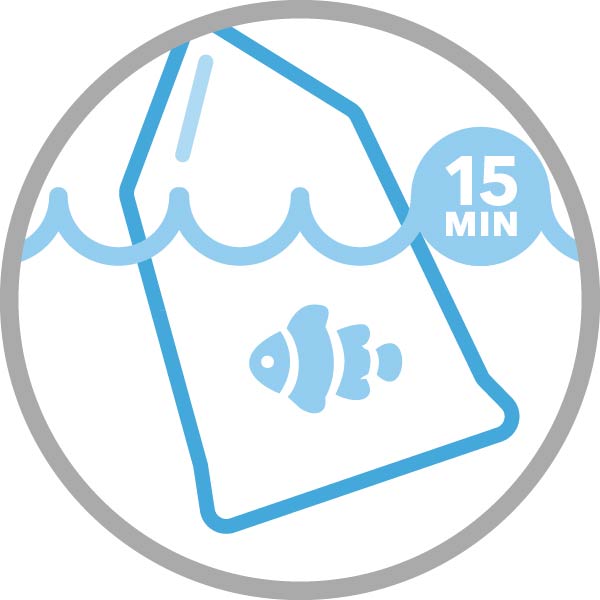 Float the sealed bag in your aquarium for 15 minutes. This allows the water in the specimen bag to adjust slowly to the temperature in the aquarium.
4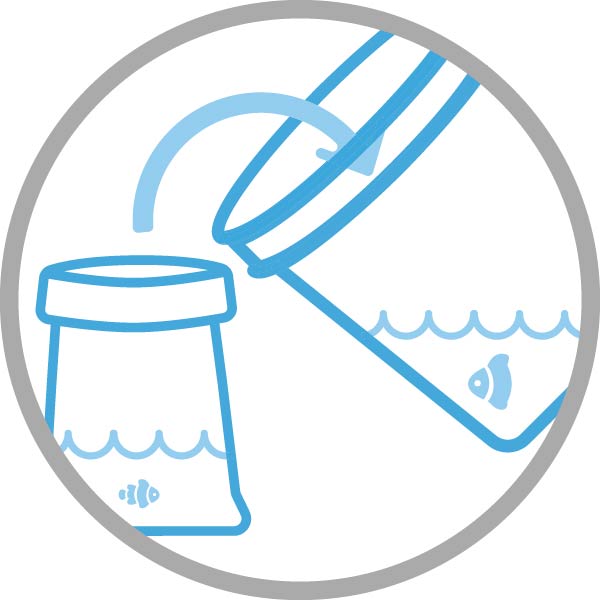 Carefully empty the contents of the bags (including the water) into the buckets, making sure not to expose sensitive invertebrates to the air. Depending on the amount of water in each bag, this may require tilting the bucket at a 45-degree angle to make sure the animals are fully submerged. You may need a prop or wedge to help hold the bucket in this position until there is enough liquid in the bucket to put it back to a level position.
5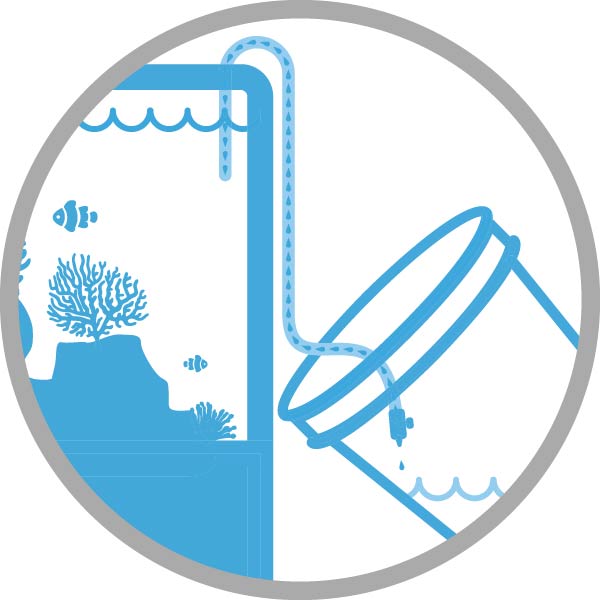 Use the acclimation kit to set up and run a siphon drip line from the main aquarium to the bucket. You'll need separate kits for each bucket used. The rigid tubing will sit over the trim of most glass aquariums. Use the enclosed valve to regulate flow from the aquarium into the bucket.
6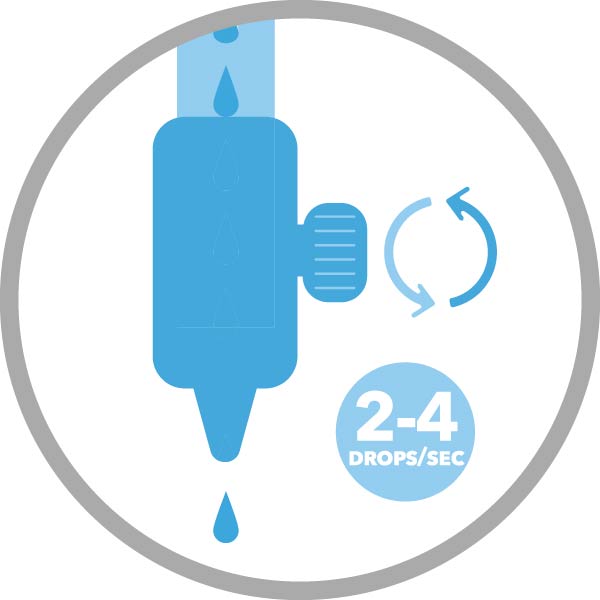 Begin a siphon and when water begins flowing through the tubing, adjust the drip rate using the control valve to a rate of about 2-4 drips per second. Water volume in bucket will double about every 1/2 hour.
7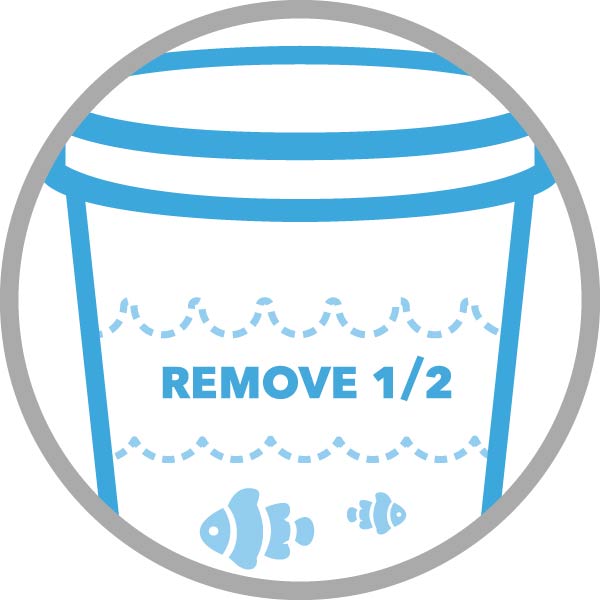 When the water volume in the bucket doubles, discard half and continue the acclimation process until the volume doubles once more – about one hour.
8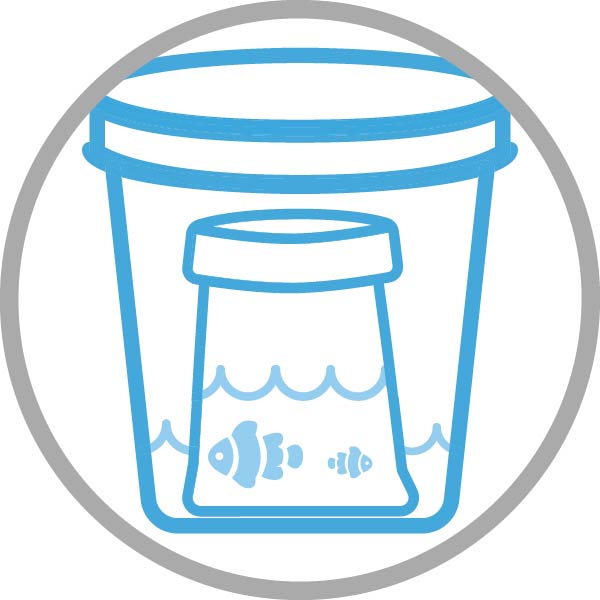 At this point, the specimens can be transferred to the aquarium. Sponges, clams, and gorgonians should never be directly exposed to air. Gently scoop them out of the drip bucket with the specimen bag, making sure they're fully covered in water. 
8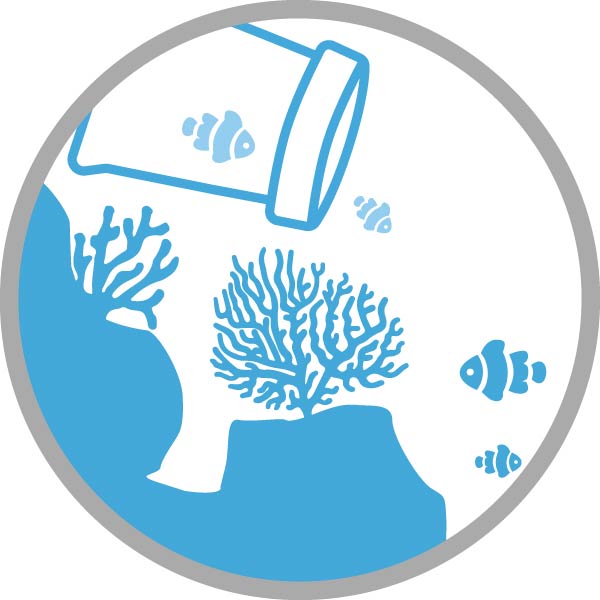 Submerge the bag underwater in the aquarium and gently remove the specimen from the bag. Please make sure that the water in the bag is from your aquarium, NOT OUR WATER. Also, to avoid damage, please remember never to touch the "fleshy" part of live coral when handling. 
10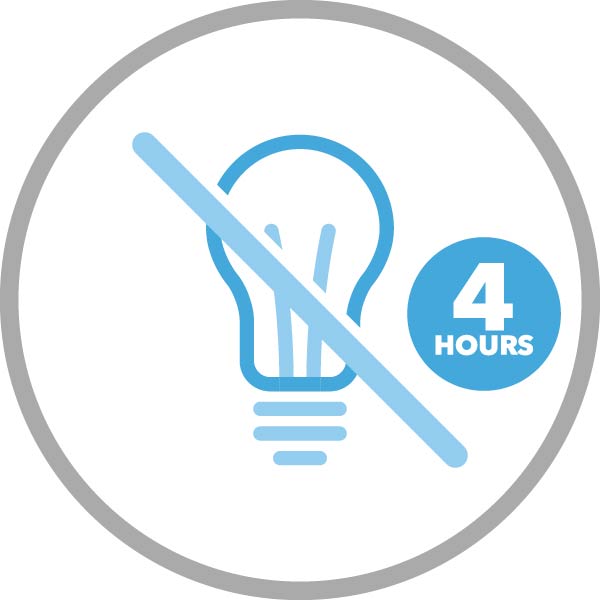 Keep your aquarium lights off for at least four hours after the specimens are introduced into the aquarium to help them further adjust.
Important Tips:
Be patient – never rush the acclimation procedure. The total acclimation time for your new arrival should take no longer than two hours.
Always follow the acclimation procedure even if your new arrival appears to be dead. Some fish and invertebrates can appear dead when they arrive and will usually revive when the acclimation procedure is followed correctly.
Never place an airstone into the shipping bag or bucket when acclimating your new arrival. This will increase the pH of the shipping water too quickly and expose your new arrival to lethal ammonia.
Keep aquarium lights off for at least four hours after the new arrival is introduced into the aquarium.
Most invertebrates and marine plants are more sensitive than fish to changes in specific gravity. Please acclimate invertebrates to a specific gravity of 1.023-1.025 or severe stress or trauma may result.
Some live corals produce excess slime when shipped. After the acclimation procedure is followed, hold the coral by the rock or skeletal base and gently shake the coral in the shipping bag before placing into the aquarium. To avoid damage, please remember never to touch the "fleshy" part of a live coral. Many species of coral will not open for several days after introduction into their new home.
In some instances, a new tank mate will be chased and harassed by one or all of your existing tank mates.
Solution 1: A clean plastic spaghetti strainer (found at a local store) can be used to contain a tank bully within the aquarium for several hours until the new arrival adjusts to its surroundings. Just float the perforated plastic basket in the aquarium. Net the tank bully and place in the floating basket for approximately four hours while the new arrival adjusts to your aquarium. Never place the new arrival in this basket; the new specimen must get familiar with your aquarium. By placing the tank bully in a perforated basket, you'll reduce the stress on the new arrival.
Solution 2: A perforated plastic lighting grid can be purchased at the local hardware store to cut down the width of your aquarium. This grid may be used to section off a small portion of the aquarium to separate territorial or aggressive fish from the newest tank mate.
Payment & Security
Your payment information is processed securely. We do not store credit card details nor have access to your credit card information.